VMAP1 Downloads
¤ This pages tells you where to download and how to install the VMAP1 data sets.
VMAP1 data is divided into a rather complex global mosaic of 234 geographic zones, with each available on a single CD-ROM. However, as mentioned in the introduction page, only 57 of these zones are currently available for public download. In an effort to be helpful, the main NIMA website has a nice map interface and plenty of options, but if you just want to rush in and download the VMAP1 data, it can be rather confusing to actually locate the files that you want. To simplify this, I have provided the links that take you straight to the files - you can find them below the map.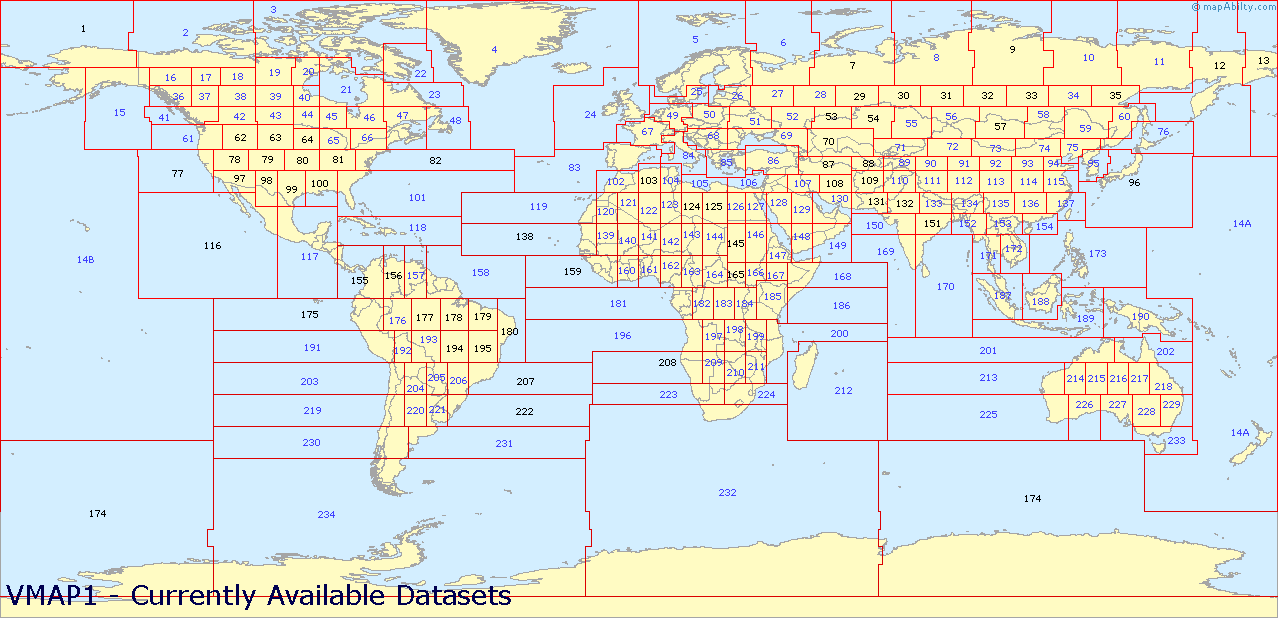 This map is a new one of mine, in an effort to respond to requests for information about the currently available datsets for VMAP1. It shows all the VMAP1 dataset coverage areas: the ones that are available online are shown in black. A file name such as 'v1007.tar.gz' can be decoded as follows: VMAP1, file 007.

Total File size: 3566.489258 Mbytes
Installing VMAP1

Once you have downloaded one or more of the files, the next step is to install them on your computer. This is quite a simple procedure if the following steps are followed carefully. The only requirement is a copy of WinZip or a similar program, to un-zip the files. The installation process is completely non-invasive. All it does is to move files to the new location. No changes are made to the Registry or any other System Settings.

The first and most important thing to do is to check your WinZip configuration. Failure to do this will result in the files being corrupted with added bytes. Start WinZip, and go to Options>Configuration>Miscellaneous. Check that the white box next to 'TAR File Smart CR/LF conversion' does NOT have a tick in it. If it does, click to remove it, and click 'OK'.

The installation procedure can now begin. Create a new folder anywhere on your computer called 'VMAP1'. This folder will be the master store for all of your data. The VMAP1 files have their structures carefully defined, and as long as you are using the 'Use folder names' option in WinZip, it will take care of the remaining directory structure. Start the WinZip program, click on 'Open', and browse to the downloaded file(s). Click 'OK' to select it, and allow WinZip to extract the files to a temporary folder - there is no need to know where this is, as it will be deleted automatically after the processing has taken place. The contents of the Zipfile will be shown - this will be a surprisingly large number of files. Click 'Extract', and browse to your newly created 'VMAP1' folder in the 'Extract to' box. Select the 'All Files' and 'Use folder names' options. (The folder-names option is absolutely required for other programs to be able to make sense of the data.) Click 'Extract', and WinZip does the rest for you. If you have multiple files to un-zip, repeat the above procedure, keeping the same folder-name 'VMAP1' in the 'Extract to' box for each one. Close the Winzip program.

VMAP1
Introduction