VMAP0 Software
¤ This page tells you about some of the free software that can display VMAP0 data.

VPFVIEW V2.1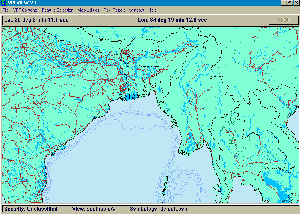 Application software, called VPFVIEW V2.1, has been developed by NIMA and allows users the ability to access and view VMap Level 0 data. The software, available separately from NIMA or USGS within the DMAMUSE software package, has been developed to operate on a PC.
The VPFView software is designed to access any database implemented in the Vector Product Format (VPF) and allows data to be selected for display from one or more databases by geographic region and by data type. For example, you can zoom into a geographic area of interest and request a single type of feature, such as dual-lane highways to be displayed. Or, you can display a group of related features (e.g., all road types), combinations of feature types (e.g., dual-lane highways and international airports), or all features existing in the database. The software also allows you to display and evaluate the database directly from CD-ROM, hard drive, or other media without loading or converting the data (although you will pay a speed penalty when reading the data from CD-ROM or an equivalent media).
The VPFView software is not a geographic information system (GIS). The software is designed to enable you to view and perform spatial queries on data contained in any VPF database, but its analytical capability is limited to constructing views and themes.
Once you have generated a display, you can save the results of a data request as a graphic display (.bmp) or the text of a report. You can also save the data request itself, in the form of a 'feature selection list'. Selected libraries and coverages can be saved in a user-defined database.
Note: This software, whilst fully working, is no longer supported, and help queries are no longer answered. However it is well worth downloading, not least for the VPF-Shapefile converter. NIMA no longer carry this software on their site, so I have made it available here.

NIMA Resources

Replacements
There are a number of alternatives to the VPFVIEW software. Listed below are five viewers that can read NIMA data and are available free to anyone via internet downloads.
Downloading
VMAP0
Available
Data